Regular price
$ 59.00 USD
Regular price
$ 59.00 USD
Sale price
$ 59.00 USD
Unit price
per
Sale
Sold out
Get 40% off with code TRAVEL40. USDA Certified Organic Essential Oil Sampler Package # 2 is the perfect introduction to aromatherapy for anyone interested in learning or expanding their knowledge about essential oils and holistic health. It's the cheapest and smartest way to sample new oils before committing to a whole new bottle, especially high-quality essential oils, which aren't cheap. 
How to Use: these mini-vials are a great and affordable gift option, as you can pack 3-4 ( or more) together to offer them as gifts to friends and family. They are also great for travel and as mini perfumes.
Each sampler pack comes with a small pocket guide on how to use each oil. 
Check the Oil Sampler #3 to see the other 20 vials included in that pack.
Our Sampler #2 pack includes 21 1-ml vials with the following essential oils:
Gingergrass

Grapefruit, Pink

Helichrysum

Hyssop, Cineol 1.8

Inula

Jasmine, Grandiflorum

Juniper Berry

Lavandin, French, Sweet

Lavender, French, Extra

Lavender, Bulgarian

Lemon

Lemongrass

Lime, Distilled

Mandarin, Red

Marjoram, Spanish

Myrrh

Neroli

Niaouli

Orange, Sweet

Oregano

Palmarosa
Packaging
Each of the 21 essential oils in this package comes in 1 ml vials filled up with 1 ml of oil, except for the following oils, which only contain 5 drops of oil inside each vial. These 6 oils are very expensive (some of them cost $30 or more for just 1 ml of oil), and in order for us to offer them to customers as samplers, packaging these 6 oils by drops was the most viable way to make them affordable so that customers could test all our essential oils, including the more expensive ones (which are very hard to find for sale in samplers).
Helichrysum

Inula

Jasmine

Lavender, French, Extra

Myrrh

Neroli
Return Policy: due to the tester size of 1 ml of oil inside each vial contained within the sampler package, refunds or exchanges cannot be offered on the testers unless they were damaged during shipping.
To get a full, detailed information on how to use each of these oils, please refer to each individual oil listed inside our Essential Oils Collection page, or by doing a simple search by oil name on our website search bar.
| | |
| --- | --- |
| | Depression, low concentration, low libido, cough, allergies, sinus congestion, insect repellant, pimples, blackheads, boils, dermatitis, burns. |
| | Antibacterial, excessive perspiration, acne, oily skin, stress, appetite suppressant, air freshener, muscle and joint pain, menstrual cramps |
| | Asthma, allergies, bronchitis, arthritis, muscular pains, arrhythmia, acne, stretch marks, skin inflammations, warts, spots, psoriasis, etc. |
| Hyssop, Cineol 1.8 | Fibromyalgia, arthritis, damaged skin, frostbite , upset stomach, flu, respiratory congestion, irregular menses, rheumatism sciatica, neuralgia. |
| Inula | Most powerful aids in both upper and lower respiratory tract, ear, nose and throat infections, immune system booster, sadness, grief, other issues of the heart. |
| | Fear and apathy, relaxation massage, harmony, creativity, aphrodisiac, sensitive skin, hormonal imbalance, uterine tonic. |
| | Antirheumatic, stress, digestive issues, depurative , kidney stones, inflammation, stimulates menstruation , urinary tract infections, skin diseases. |
| Lavandin, French, Sweet | Antifungal, muscle pain, depression, bronchitis, nasal congestion, cuts, wounds, perfumes, cosmetics, soaps and lotions formulations. |
| | Stress, anxiety, tension, depression, insomnia, mood booster, arthritis pain, headaches, migraines, DIY skin care products, deodorizer, etc. |
| Lavender, Bulgarian | Nervous system relaxer, burns, cuts, bruises, insect bites, sore muscles and scars, insomnia and other stress-related conditions. |
| | Immune system support, promotes fat loss, face wash, teeth whitener, wood and silver polish, natural disinfectant, nausea, bad breath, digestion. |
| | Sedative, antidepressant, bug repellent, relax and tone your muscles, rheumatism, period cramps, stomachache, toothache, migraines. |
| Lime, Distilled, fair trade | Internal/external infections, sores, rashes, psoriasis, carbuncles, bronchitis, good oral health, diarrhea, food poisoning, detoxifying, disinfectant. |
| Mandarin, Red | Antiseptic, circulatory, depurative, digestive, hepatic, sedative, stretch marks, DIY cosmetics, nausea, pain reliever, anti-cancer agent, insomnia. |
| Marjoram, Spanish | Antiseptic, antispasmodic and analgesic, dysmenorrhea, hormonal imbalance, tired and aching muscles, bronchitis, digestive aid, blood pressure, sleep aid. |
| | Anti-inflaMmatory, antimicrobial, antiviral, antifungal, stimulant for blood circulation, digestion, excretion, premature aging, powerful relaxant. |
| Neroli | Anxiety, blood pressure, aphrodisiac, menopause symptoms, urinary tract infections, antioxidant, wrinkles, scars, stretch marks, muscle spasms. |
| Niaouli | Asthma, sore muscles, decongestant, respiratory problems, sore throat, rheumatism, cystitis, urinary infections, skin & hair health, insecticide. |
| | Antidepressant, antispasmodic, antiseptic, aphrodisiac, carminative, diuretic, sedative, detoxifier, immune system booster, dermatitis, skin care. |
| | Detoxifies the body, strengthens the bones, improves heart health, protects against diabetes, immune health, antibacterial, metabolism helper, etc. |
| Palmarosa, fair trade | Antifungal, antibacterial, antiviral, promotes the growth of cells and the recycling of cellular matter, dry skin, eczema, psoriasis, digestive aid. |
|    USES | 1-Nebulizer. 2-Dilute with a carrier oil and apply to pulse points. 3-Apply a few drops on a cotton ball and set on a tray by your bed, desk, in closets, kitchen, car, etc. |
General considerations: keep out of reach of children and pets. Not for internal use unless taken under the supervision or recommendation of an aromatherapist professional. Do not use undiluted on skin, eyes, or mucous membranes; it could cause allergic reactions. Always test first on a small portion of your skin. If you are pregnant, consult with a healthcare provider or aromatherapist professional as some essential oil are less tolerated than others by pregnant women. For safety consideration specific to each oil please refer to the chart below.
Storage and Handling: the shelf life of ESSENTIAL OILS is usually around 1 year after they're opened, and up to 2 years when unopened. Some essential oils could last up to 3-5 years. All essential oils oxidize and are subject to lose their therapeutic value and aromatic quality over time. Essential oils benefit from proper storage and handling. Avoid keeping essential oils in a location that is prone to sudden temperature changes such as the bathroom or kitchen. Store them in a cool, dark place, away from heat and light.
| | |
| --- | --- |
| Gingergrass | Avoid while pregnant. |
| Grapefruit, Pink | Phototoxic. May cause skin irritation. Don't expose skin to sun or tanning 12 hours after use. Avoid eyes, mucous membranes, sensitive skin. |
| Helichrysum, Serotinum | Non-toxic, non-irritant and non-sensitizing. |
| Hyssop, Cineol 1.8 | Avoid if epileptic or pregnant. For external use only. |
| Inula | Non-irritating, non-sensitizing. Avoid use in infants, children, and the elderly, during pregnancy and nursing. |
| Jasmine, Grandiflorum | Nontoxic, non-irritating, and non-sensitizing; not phototoxic to humans. Only use it diluted with a carrier oil when applying topically (on the skin). |
| Juniper Berry | Avoid in kidney or liver disease. Not recommended during pregnancy. Possible skin irritation. |
| Lavandin, French, Sweet | Irritant if applying undiluted on skin. May cause lung damage if swallowed. For external use only. |
| Lavender, French, Extra | Possible skin sensitivity. |
| Lavender, Bulgarian | Non toxic, non-irritant and non-sensitizing. |
| Lemon | Phototoxic, skin sensitivity, don't expose skin to sunlight for 12 hours after application. |
| Lemongrass | Skin irritating. Avoid during pregnancy. |
| Lime, Distilled, fair trade | Phototoxic, skin sensitivity, do not expose skin to sunlight for 12 hours after application. |
| Mandarin, Red | Non-phototoxic. May produce irritation in some skin types. |
| Marjoram, Spanish | Avoid during pregnancy. |
| Myrrh | Avoid during pregnancy and nursing. |
| Neroli | Non toxic, non-irritant and non-sensitizing. |
| Niaouli | Non toxic, non-irritant and non-sensitizing. |
| Orange, Sweet | Possible skin sensitivity. |
| Oregano | May cause skin irritation. Avoid during pregnancy and nursing. |
| Palmarosa, fair trade | Non toxic, non-irritant and non-sensitizing. |
WHY BUY FROM US
Herba Terra Organics is among the very few companies is US that offers an entire line of USDA certified organic essential oils and there are several great reasons to buy from us. We pride ourselves in giving you the highest quality of essential oils and products available today. For us "organic" isn't just a buzzword, it's a way of life. It's how we do business.
Herba Terra Organics is a fully certified organic company through Oregon Tilth Certified Organic, which is fully accredited by the USDA National Organic Program.
Our oils come from plants sourced from nutrient dense, rich soils, extracted at the most optimal time to ensure maximum potency. All our essential oils are sourced from organic farmers from around the world, USDA certified organic and rigorously tested, following stringent standards and rules to ensure the products are completely organic and free from any chemicals or other pollutants.
While many companies nowadays claim their oils are 100% pure essential oils, undiluted, unadulterated, and even organic, they cannot prove it unless they have the USDA Organic logo on their products. All organic products must be certified by a USDA accredited certification agency. USDA is also recognized internationally as the golden standard when it comes to the purity and quality of product ingredients. The USDA labels on ALL OUR essential oils represent the proof for the high quality and purity of each of our essential oils.
We're very proud of our organic commitment, and that means we will never sell or distribute, or import herbal products for our oils production that are conventionally grown, harvested, and processed with any pesticides, herbicides, chemical fertilizers, GMOs, synthetic chemicals, or growth agents. This is our promise to you because we truly care about the health of our customers, our communities, and our environment.
Here are just a few other reasons why you should buy from us:
              

All items in stock & ready to ship

              Affordably priced samples on all our products

              

Secure ordering available

              

Courteous, knowledgeable and professional support

              

Satisfied customers

              

Lowest pricing available online for the high-quality oils we offer

              

100% satisfaction money back guarantee

              

Quality CERTIFIED organic and ONLY natural products, which you will love!

              

Wild Harvested and Fair Trade products. We strive to source our oils from small farmers around the world whenever possible by offering you some of our oils as Fair Trade Certified or wild harvested. This means that when you purchase an oil that is labeled Fair Trade or Wild Harvested from us (as indicated by these words on the label) we re-direct a portion of every sale to agricultural communities around the world. The Fair Trade Commission guarantees that workers in these small farm communities have rights and are paid fair wages. We know that paying the lowest cost for oils comes at a very high price for these farmer families and their entire livelihoods, and we simply cannot do that because we know the wellbeing of all people and our planet depends on it.
A customer-centered shopping experience has always been our goal and we pride ourselves in our comprehensive policies that have put us above our competitors. Shop with us today and see the Herba Terra Organics difference.
Shipping

All orders ship within maximum 2 business days from the date of purchase.
Share
View full details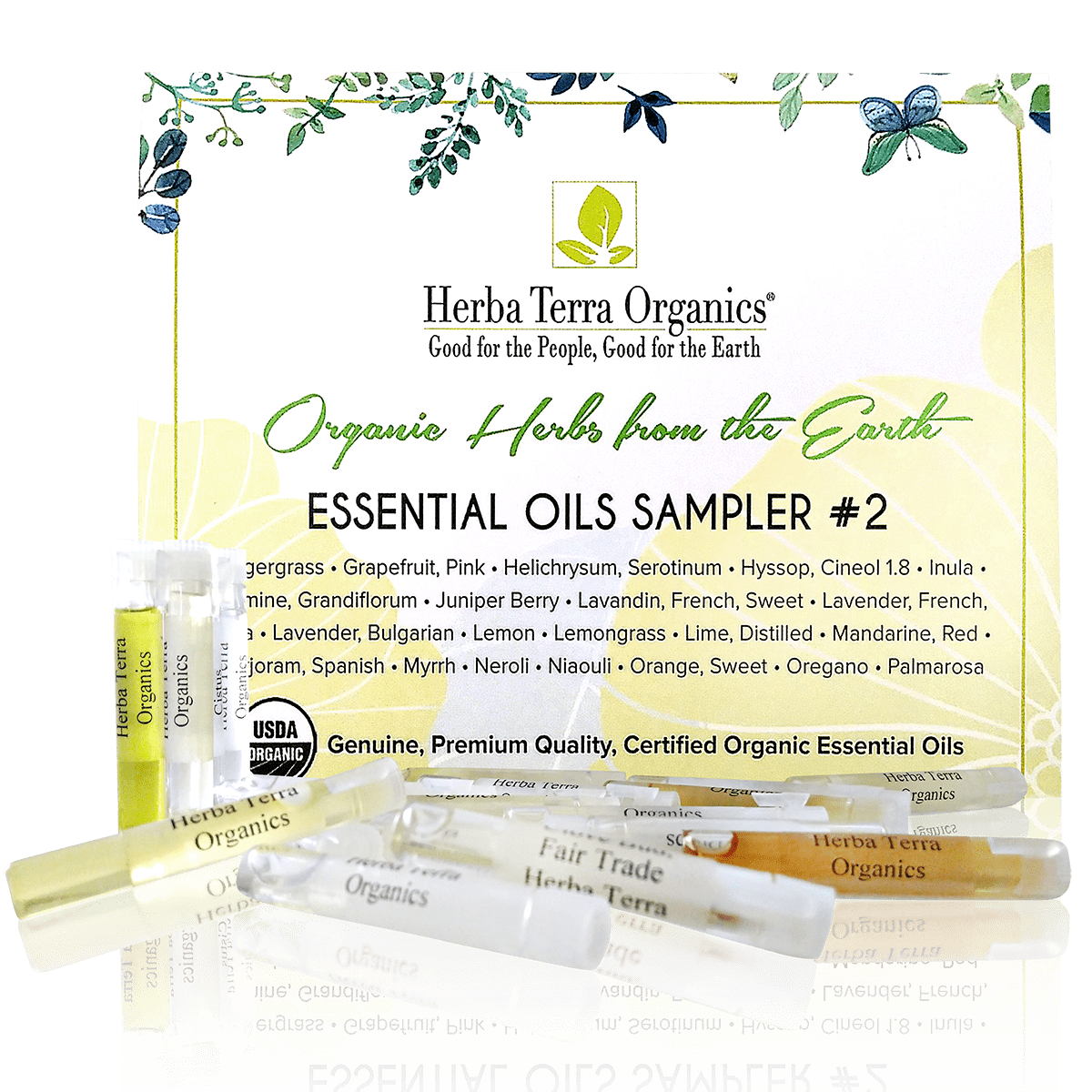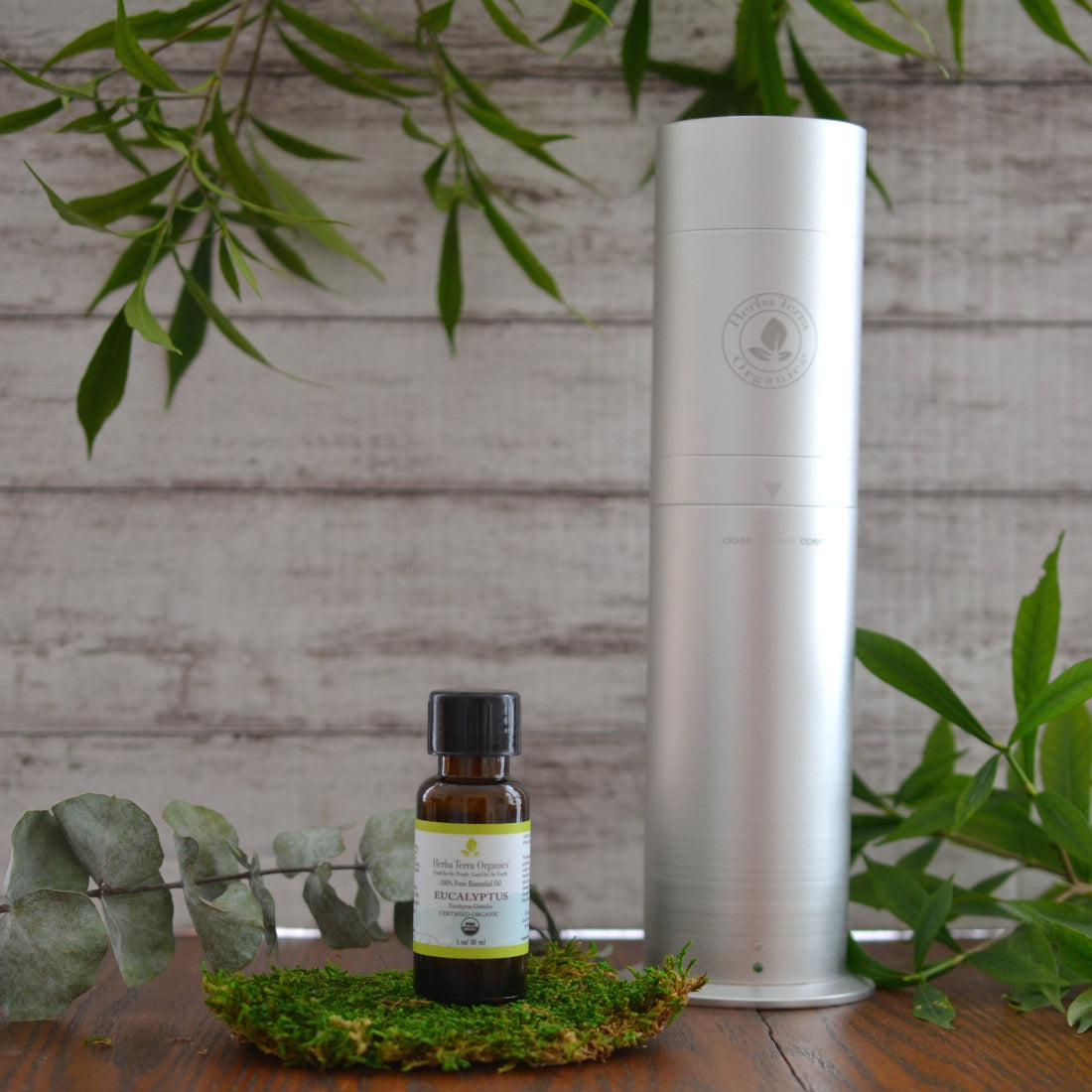 Maximize the Experience
Make the most of this essential oil with our powerful cold air nebulizer. Add a few drops of your favorite essential oil and enjoy the spa-like energy, at home.
SHOP NOW