Regular price
$ 75.98 USD
Regular price
Sale price
$ 75.98 USD
Unit price
per
Sale
Sold out
Discover the art of aromatherapy with our easy-to-use trio of our most popular essential oils. For detailed information on each specific oil, please click on the link for each oil below. These oils could be used together or separately as needed. 
This bundle contains:
1 bottle of Basil  essential oil (30 ml)
1 bottle of Tea Tree essential oil (30 ml)
1 bottle of Oregano essential oil (10 ml)
Basil - refreshing and stimulating. Helps to clear the mind and focus when you need to study or work; it soothes the body, especially after physical exercise. Perfect for massage and for diffusing, also great for nausea, congestion, and allergies, etc. which is why this is an oil that you should consider in your healthcare toolkit. Also, perfect when you travel.
Tea Tree - herbaceous and clean smelling. Well known as the "medicine in a bottle" Tea Tree oil is recognized for its numerous benefits for hundreds of years. If there's one essential oil each household should have, then Tea Tree oil is the best because is the most versatile oil there is. It's among the very few oils that can be used directly on the skin without diluting because it's not as irritating as other oils. Great for skin, hair, health, and excellent for cleaning due to its powerful antibacterial and antimicrobial properties among others- this oil does it all! A must-have for when you travel as well. Find out how you can use this powerful oil in our FREE "Tea Tree Oil- 87 Uses and Benefits" e-guide which includes 87 recipes with instructions on how to use this miraculous oil. 
Oregano oil- is the most powerful natural antibiotic which helps purifies the air to prevent colds and flu, and other respiratory issues by supporting your immune system. It's also great for detoxing the body which is so essential if you want to stay healthy.  You can diffuse it with the other 2 oils in this blend, and also you can add one drop of Oregano oil 2-3 times a week to your smoothies, soups, salad dressings, etc. to protect your gut flora from unwanted viruses. Protecting your immune system on a daily basis ensures your body stays healthy which helps keep your energy levels high naturally, without any artificial stimulants.
Shipping

All orders ship within maximum 2 business days from the date of purchase.
Share
View full details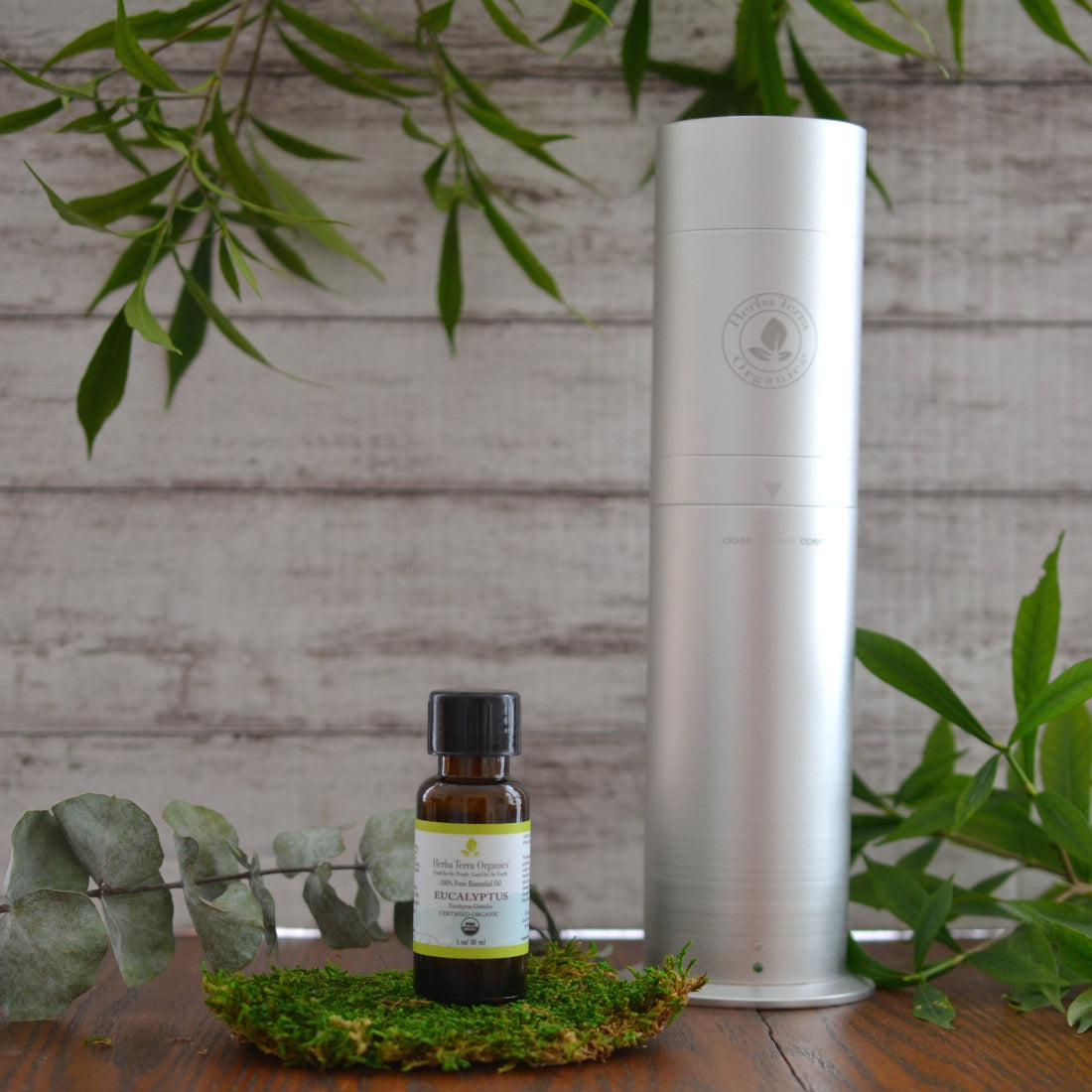 Maximize the Experience
Make the most of this essential oil with our powerful cold air nebulizer. Add a few drops of your favorite essential oil and enjoy the spa-like energy, at home.
SHOP NOW