Regular price
$ 69.98 USD
Regular price
$ 69.98 USD
Sale price
$ 69.98 USD
Unit price
per
Sale
Sold out
There's no time like vacation time and the last thing you want when you travel is to feel sick.  These essential oils will keep your health and your energy level in check, so if you want to maximize every moment during your trip, this kit with  Tea Tree, Oregano, and Frankincense is a MUST-have item in your luggage.
This bundle contains 1 hard shell travel case + the following 3 oils:
1 bottle of Australian Tea Tree (30 ml/ 1oz)
1 bottle of Oregano (10 ml)
1 bottle of Frankincense (10 ml)
Our vegan travel case is lightweight, break-proof (=hard case), stain-resistant, compact yet spacious, and it can fit up to 6 bottles of liquids. Read the full description HERE.
Each of our essential oils is sustainably sourced and USDA organic, which gives you maximum potency and benefits with every drop.

Australian Tea Tree oil is recognized as the "medicine in a bottle", it has been used for hundreds of years. If there's one essential oil everybody should have, then Tea Tree oil is just that. It's one of the most versatile oils and it can be used directly on the skin because it's not as irritating as other oils. Each purchase of our wildcrafted Tea Tree oil comes with a FREE guide "87 Uses & Benefits of Tea Tree" that shows you how to maximize its benefits. While traveling, you can use it for insect bites, sunburns, cuts, bruises, and any wounds due to its powerful antibacterial and antifungal properties.
Oregano oil is an absolute must. Here are some practical uses during travel. Not only it is helpful to treat but also to prevent colds & flu, and other respiratory infections altogether. It can also help combat the general lack of energy and even chronic levels of fatigue especially when traveling. Add a few drops into your necklace diffuser, your mask while traveling, or a cotton ball on your nightstand. The compounds in Oregano can support the actions of the liver, which is responsible for detoxifying the body (mix it with a carrier oil and massage it over your liver area). Or add 1-2 drops to your water or tea, salads dressings, soups, or stews to improve heartburn.
Frankincense oil has a calming and soothing effect on the body, making it an excellent choice for relaxation during travel. Its warm and woody aroma can help ease feelings of stress and anxiety, which are common during long trips. Additionally, frankincense oil is believed to have anti-inflammatory properties, making it useful for soothing sore muscles and joints that may become stiff during extended periods of sitting or standing. By adding frankincense oil to a travel kit, you can enjoy its benefits and arrive at your destination feeling more relaxed and refreshed.
 Make your own roll-on deodorant by mixing a few drops in a rollerball with jojoba or your favorite carrier oil to replace the chemical deodorants sold in stores. 
So next time take these wonderful oils with you to ensure your travel plans go smoothly, so you can make the most of your time away from home!
Oil Specific: please click on the link of each oil to read its specific safety considerations.
General: keep out of reach of children and pets. Not for internal use unless taken under the supervision or recommendation of an aromatherapist professional. Do not use undiluted on skin, eyes, or mucous membranes; it could cause allergic reactions. Always test first on a small portion of your skin. If you are pregnant, consult with a healthcare provider/ professional experienced with essential oils as some essential oil are less tolerated while others are well-loved by pregnant women.
Storage and Handling: the shelf life of ESSENTIAL OILS is usually around 1 year after they're opened, and up to 2 years when unopened. All essential oils oxidize and are subject to losing their therapeutic value and aromatic quality in time. Essential oils benefit from proper storage and handling. Avoid keeping essential oils in a location that is prone to sudden temperature changes such as the bathroom or kitchen. Store them in a cool, dark place, away from heat and light.
Herba Vera Organics is among the few companies in US that offers an entire line of USDA-certified organic essential oils, plus there are several other great reasons to buy from us. We pride ourselves on giving you the highest quality of essential oils and products available today because for us "organic" isn't just a buzzword, it's a way of life. It's how we do business.
Our oils come from plants sourced from nutrient-dense, rich soils, extracted at the most optimal time to ensure maximum potency. All our essential oils are sourced from plants grown and harvested from organic farms, are USDA-certified organic, and are rigorously tested, following stringent standards and rules to ensure the products are completely organic and free from any chemicals or other pollutants.
All organic products must be certified by a USDA-accredited certification agency. We're very proud of our organic commitment, and that means we will never sell or distribute, or import herbal products for our oils production that are conventionally grown, harvested, and processed with any pesticides, herbicides, chemical fertilizers, GMOs, synthetic chemicals, or growth agents. This is our promise to you because we truly care about the health of our customers, our communities, and our environment.
Here are just a few other reasons why you should buy from us:
All items in stock & ready to ship

Affordably priced samplers for all our products

Secure ordering available

Courteous, knowledgeable and professional support

Satisfied customers

Lowest pricing available online for the high-quality oils we offer

100% satisfaction money-back guarantee

Quality CERTIFIED organic and ONLY natural products, which you will love!

Wild Harvested and Fair Trade products.

Whenever possible we strive to offer you fair-trade or wild-harvested essential oils. This means that when you purchase an oil that is labeled Fair Trade or Wild Harvested from us (as indicated by these words on the label) a portion of every sale goes to agricultural communities around the world. The Fair Trade Commission guarantees that workers in these small farm communities have rights and are paid fair wages. We know that paying the lowest cost for oils comes at a very high price for these farmer families and their entire livelihoods, and we cannot simply do that because we know the well-being of all people and our planet depends on it.

A customer-centered shopping experience has always been our goal and we pride ourselves on our comprehensive policies that have put us above our competitors. Shop with us today and see the Herba Terra Organics difference.
Shipping

All orders ship within maximum 2 business days from the date of purchase.
Share
View full details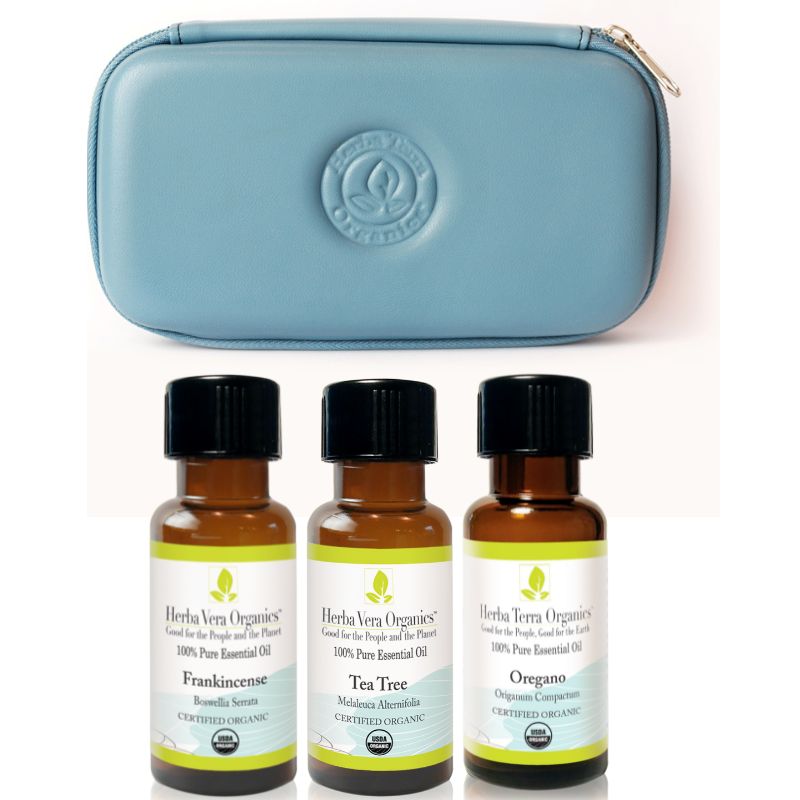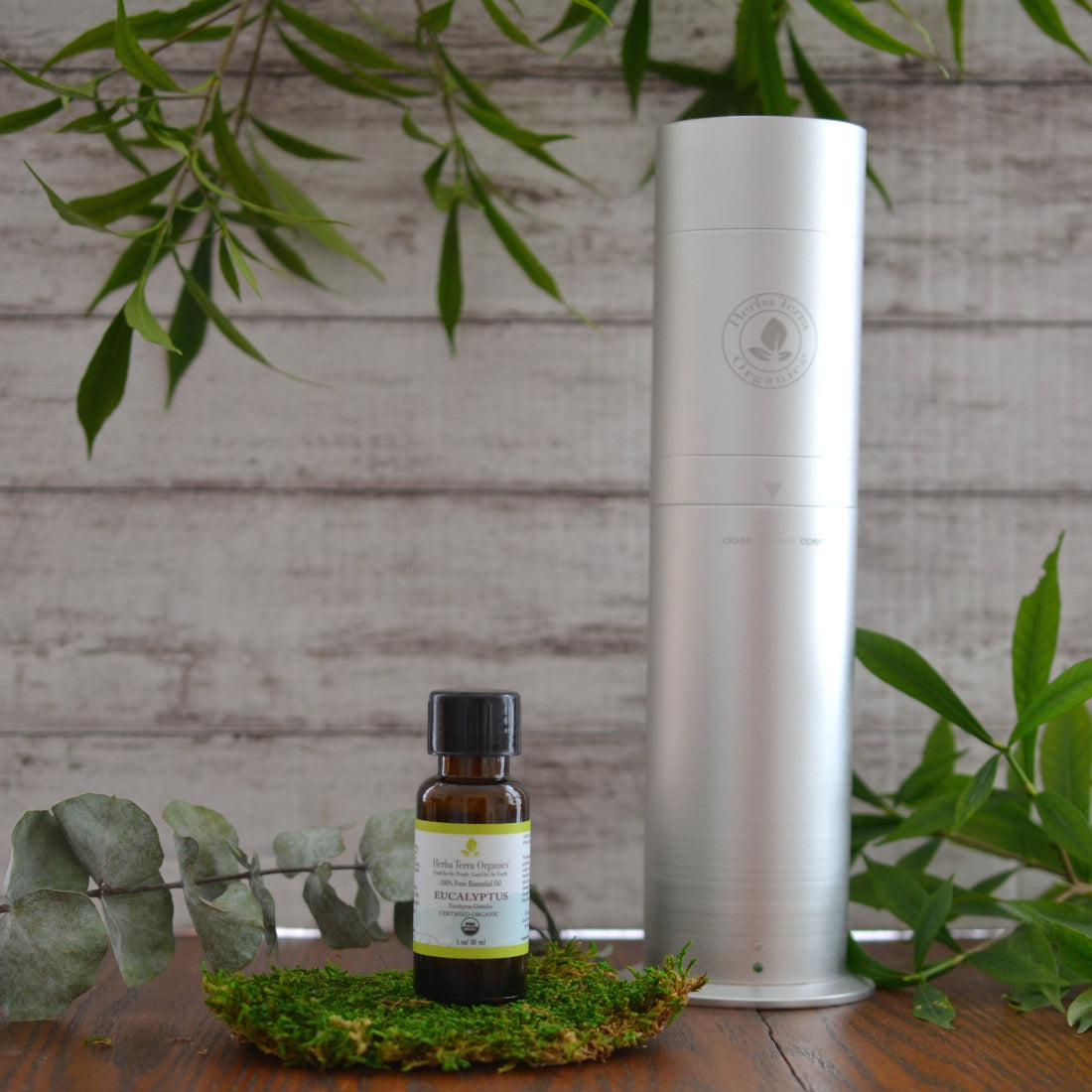 Maximize the Experience
Make the most of this essential oil with our powerful cold air nebulizer. Add a few drops of your favorite essential oil and enjoy the spa-like energy, at home.
SHOP NOW