Regular price
$ 384.98 USD
Regular price
$ 384.98 USD
Sale price
$ 384.98 USD
Unit price
per
Sale
Sold out
Our CLARITY blend of essential oils can help create a synergistic effect that promotes mental clarity, focus, and relaxation which can help you get the progress and outcomes you need with less struggle and faster. If you work from home, like so many people these days, this blend could help you be more focused and more productive, so you can finish your work faster and give you the freedom to spend more time with your loved ones and enjoy life more.
Basil essential oil is known to have a stimulating effect on the nervous system, which can help increase alertness and focus. It is also believed to help reduce mental fatigue and improve mental clarity.
Frankincense essential oil has a grounding effect on the mind and body, which can help calm racing thoughts and improve concentration. It is also believed to have a balancing effect on emotions, which can help promote a sense of inner peace and clarity.
Cardamom essential oil is known to have an uplifting effect on the mind and mood, which can help reduce stress and anxiety while promoting mental clarity and focus. It is also believed to have a warming effect on the body, which can help improve circulation and boost energy levels. 
Our Clarity bundle includes: 1 NEBULIZER + 
1 bottle of USDA Organic Basil essential oil (30 ml)
1 bottle of USDA Organic Frankincense essential oil (10 ml)
1 bottle of USDA Organic Cardamom essential oil (10 ml)
Suggested Blend:
Basil- 30 drops
Frankincense - 20 drops
Cardamom - 10 drops 
Mix these oils together in a bottle as suggested above, shake well, and diffuse in your nebulizer undiluted for a burst of delightful aromas. 

For maximum effect and for a lasting aroma, we highly recommend diffusing them in a nebulizer for its capacity to distribute a stronger scent, which is long-lasting, and in a fraction of the time with the maximum therapeutic effect. Learn more here why you should use a nebulizer instead of a diffuser. 
The Herba Nebulizer features include: 
BEST THERAPEUTIC EFFECT GUARANTEED:

 

The difference between a cold air nebulizer diffuser and other diffusers-heat is the enemy of essential oils! Essential oils are very delicate and volatile. When heated, their therapeutic benefits are destroyed. Many diffusers work by heating the essential oils and sometimes involve adding water to assist in the evaporation process. Furthermore, scents that are diffused through methods that involve heat do not disperse well in large areas nor does their scent last long as the oil molecules fall down as they come in contact with the cool air.
BEST QUALITY DIFFUSER ON THE MARKET, GUARANTEED:

 

We believe so much in the quality of our product that we offer a 1-year warranty. After the 1st year, we offer paid repair services. Our diffuser is made from a material of the best quality: aluminum, high-quality parts made in Japan. When you buy our diffuser you get the maximum therapeutic benefits with your essential oils, unlike when using the cheaper, low-quality diffusers/humidifiers, which only distributes the aroma of the essential oil without its therapeutic benefits. Nanotechnology is the most revolutionary system in the scenting industry. It works by using high amounts of air pressure to compress oils into a dry mist of nanoparticles. The cold air diffusion technology in our Herba Terra diffuser ensures consistent and subtle scenting without high or low points in the scenting process.
UNIQUE FEATURES:

 

Advanced NANOtechnology nebulizes micro-fine Essential Oil vapor without the use of heat or water; nanoparticles leave NO residue or fall unto furniture unlike the cheaper diffusers, which use water and/or heat and leave. The remote control with built-in timers gives the option to control the scent intensity levels with the push of a button. 3-group timing variations: 1 hr, 4 hrs, and 8 hrs/day with automatic/programmable shut-off. The level of aroma intensity could be set to work continuously as follows: 30/30-30 seconds on, 30 seconds off; 30/60- 30 seconds on, 60 seconds off; 30/120 - 30 seconds on, 120 seconds off.Portable, slick and compact, stylish and whisper quiet- perfect for home, office, yoga studio, office room, dentist room, etc. Powerful, effective and easy to use, it also comes with an instructions manual.
MAXIMUM USE FOR A LONG TIME:

 

our diffuser could work continuously for 8 hrs/day 5 times/week for a total of 2080 hrs/year without clogging or any other problems. Other diffusers stop working if they will be used as much. If cared for properly, this diffuser will last for many, many years.
MINIMAL OIL CONSUMPTION: BEST RETURN ON YOUR INVESTMENT- 1 ml/hour! Super efficient, it uses a very small amount of oil. The exact length of time will depend on the chosen on/off times, the density of the aroma, and most importantly on the quality of the essential oil. Other nebulizing diffusers use almost 5 times more essential oils than ours. With our Nebulizer Diffuser, you will save your money on essential oils and get back your investment in less than 5 months. ACT NOW: GIVE yourself or a loved one the gift of health

 

WITH A TRULY HIGH QUALITY and UNIQUE DIFFUSER

 

that will last for many years. Don't delay-ADD NOW to cart! Limited inventory available. 
PRODUCT SPECS: Coverage: approx. 1000 sqft · Weight: 3 pounds · Dimensions: 3" Diameter x 10.8" Tall · ONE Bottle: 100 ml AMBER GLASS bottle. Extra bottles for use with different oils and accessories for our nebulizer can be purchased on our website if needed. Check out the listing 

Amber Glass Bottles for Herba Terra Nebulizer-30 ml each- set of 4 bottles

Aluminum shell, 2 mm thick, strong and durable, corrosion resistant. Air pump: Japanese High-quality pump, one of the most powerful and very high quality. 8,000 hours lifespan, energy saving, unlike the copies used in other diffusers, which only have a 200-300 hours lifespan. O-ring, durable and not easy to break, preventing oil leaking. Each unit comes with an extra ring.
Nebulizer-made of highest quality corrosion resistant material with a unique structure, super quiet, and bigger mist, with a small filter inside which prevents oil particles from being jammed and clogging the diffuser. Built-in timer with 3 group- timing variations.
Remote control provides scent density control and program working time and work/pause interval so that it saves energy and also protects the environment =win-win! It also has a memory function, so you don't need to repeatedly adjust. With programmed timing, the diffuser will work intermittently and stop working according to your settings, saving energy and oil usage. · Well-protected gift box packaging, shockproof footpads. Environment-friendly package. · Oils not included.
SUPER EASY MAINTENANCE: unlike the cheaper diffusers that require being cleaned with soap and water (which is a big no-no as soap leaves residue inside the diffuser), our Nebulizer Diffuser can be cleaned by putting 1/2 inch of rubbing alcohol inside the bottle and run the diffuser for 10-15 minutes. 
Oil Specific: please click on the link of each oil to read its specific safety considerations.
General: keep out of reach of children and pets. Not for internal use unless taken under the supervision or recommendation of an aromatherapist professional. Do not use undiluted on the skin, eyes, or mucous membranes; it could cause allergic reactions. Always test first on a small portion of your skin. If you are pregnant, consult with a healthcare provider/ professional experienced with essential oils as some essential oil are less tolerated while others are well-loved by pregnant women.
Storage and Handling: the shelf life of ESSENTIAL OILS is usually around 1 year after they're opened, and up to 2 years when unopened. All essential oils oxidize and are subject to lose their therapeutic value and aromatic quality in time. Essential oils benefit from proper storage and handling. Avoid keeping essential oils in a location that is prone to sudden temperature changes such as the bathroom or kitchen. Store them in a cool, dark place, away from heat and light.
Herba Terra Organics is among the few companies is the US that offers an entire line of USDA-certified organic essential oils, plus there are several other great reasons to buy from us. We pride ourselves on giving you the highest quality of essential oils and products available today because for us "organic" isn't just a buzzword, it's a way of life. It's how we do business.
Our oils come from plants sourced from nutrient-dense, rich soils, extracted at the most optimal time to ensure maximum potency. All our essential oils are sourced from plants grown and harvested from organic farms, are USDA certified organic, and rigorously tested, following stringent standards and rules to ensure the products are completely organic and free from any chemicals or other pollutants.
All organic products must be certified by a USDA accredited certification agency. We're very proud of our organic commitment, and that means we will never sell or distribute, or import herbal products for our oils production that are conventionally grown, harvested, and processed with any pesticides, herbicides, chemical fertilizers, GMOs, synthetic chemicals, or growth agents. This is our promise to you because we truly care about the health of our customers, our communities, and our environment.
Here are just a few other reasons why you should buy from us:
All items in stock & ready to ship

Affordably priced samplers for all our products

Secure ordering available

Courteous, knowledgeable, and professional support

Satisfied customers

Lowest pricing available online for the high-quality oils we offer

100% satisfaction money-back guarantee

Quality CERTIFIED organic and ONLY natural products, which you will love!

Wild Harvested and Fair Trade products.

Whenever possible we strive to offer you fair-trade or wild-harvested essential oils. This means that when you purchase an oil that is labeled Fair Trade or Wild Harvested from us (as indicated by these words on the label) a portion of every sale goes to agricultural communities around the world. The Fair Trade Commission guarantees that workers in these small farm communities have rights and are paid fair wages. We know that paying the lowest cost for oils comes at a very high price for these farmer families and their entire livelihoods, and we cannot simply do that because we know the wellbeing of all people and our planet depends on it.

A customer-centered shopping experience has always been our goal and we pride ourselves on our comprehensive policies that have put us above our competitors. Shop with us today and see the Herba Terra Organics difference.
Shipping

All orders ship within maximum 2 business days from the date of purchase.
Share
View full details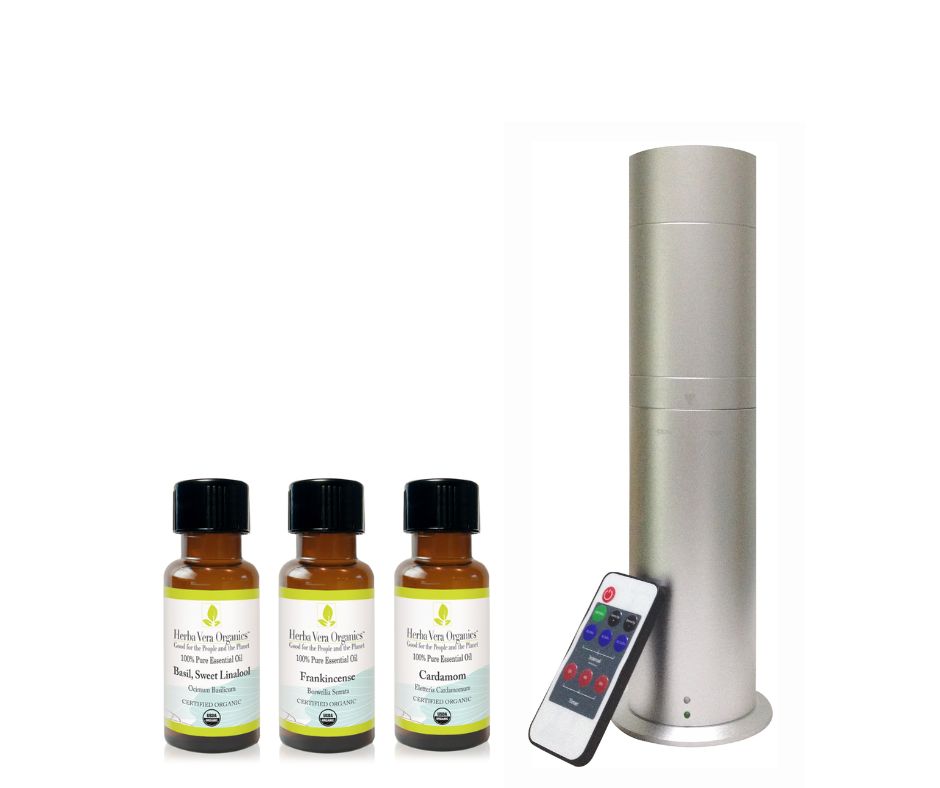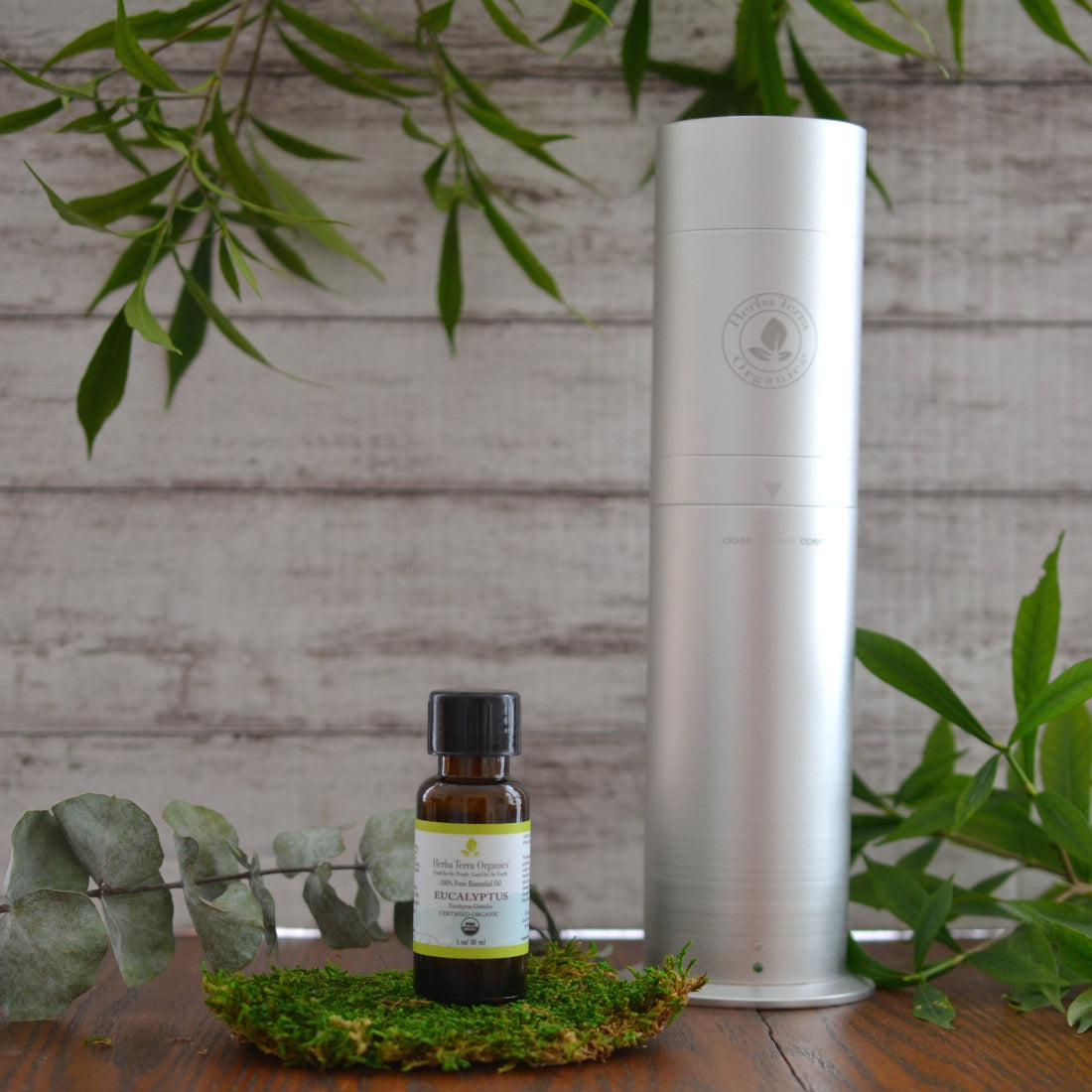 Maximize the Experience
Make the most of this essential oil with our powerful cold air nebulizer. Add a few drops of your favorite essential oil and enjoy the spa-like energy, at home.
SHOP NOW